PS Steel: Deal In All Types of SS Pipe Fitting Metal Material in All Over India:
SS Round Long Neck Floor Flange Base​ | Industrial Steel Flanges Fittings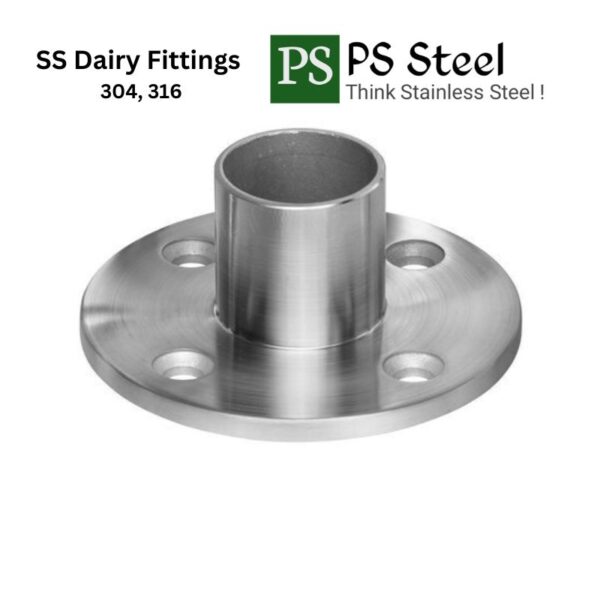 Name: SS Round Long Neck Floor Flange Base
Brand: Ps Steel
Material: Stainless Steel
Size: Varies depending on the application
Dimensions :ANSI B16.5, ANSI B16.47 Series A & B, MSS SP44, ASA, API-605, AWWA, Custom Drawings
Size:1/2″ (15 NB) to 48″ (1200NB)
Class: 150 LBS, 300 LBS, 600 LBS, 900 LBS, 1500 LBS, 2500 LBS, DIN Standard ND-6, 10, 16, 25, 40 Etc.
DIN :DIN 2527, DIN 2566, DIN 2573, DIN 2576, DIN 2641, DIN 2642, DIN 2655, DIN 2656, DIN 2627, DIN 2628, DIN 2629, DIN 2631, DIN 2632, DIN 2633, DIN 2634, DIN 2635, DIN 2636,DIN 2637, DIN 2638, DIN 2673
Click to add this item to cart.
Product Description
Ps Steel Industrial Stainless Steel SS Round Long Neck Floor Flange Base​ Dairy fittings are a type of metal fitting used to connect two Pipe and Tube Fittings together.
Industrial Stainless Steel Round Long Neck Floor Flange Base​ Dairy fittings include:
Threaded SS Round Long Neck Floor Flange Base​ Dairy fittings: These fittings have male and female threads that screw together to form a tight seal. They are generally used in low-pressure applications.
Socket weld SS Round Long Neck Floor Flange Base​ Dairy fittings:
These fittings are similar to threaded fittings, but instead of threads, they have a socket that the Pipe and Tube Fitting fits into. The socket is then welded to the Pipe and Tube Fitting to create a strong, leak-free connection.
Butt weld SS Round Long Neck Floor Flange Base​ Dairy fittings:
These fittings are used in high-pressure and high-temperature applications. They have a beveled end that is welded directly to the Pipe and Tube Fitting, creating a seamless, leak-free connection.
Ps Steel Industrial Stainless Steel Round Long Neck Floor Flange Base​ Dairy fittings come in various sizes and shapes to fit different Pipe and Tube Fitting diameters and configurations. It is commonly found in industries such as oil and gas, chemical processing, food and beverage, and pharmaceuticals.
Manufacturer of Stainless Steel Dairy Fittings in India
Stainless steel dairy fittings are specialized components constructed of high-quality stainless steel materials by PS Steel that are created exclusively for use in the dairy sector. These fittings are critical in the safe processing, handling, and transport of dairy products. Because of its good features, such as corrosion-resistant durability, ease of cleaning, and overall suitability for maintaining hygienic circumstances in dairy operations, stainless steel is chosen for these fittings.
Industrial SS Dairy Fittings In India
PS Steel provides you with all the items used for industrial purposes to make an industry or plant so that you can deal with it at a good price and get it ready for the construction of your plant.
Dairy Clamps and Ferrules:
Stainless steel clamps and ferrules are used to securely connect and seal dairy pipes and tubing. Dairy Elbows, Tees, and Crosses:
Ps Steel SS Dairy fittings and Manufacturers are used to redirect the flow of dairy products, change the pipe direction, or split the flow into multiple directions while maintaining the hygiene and integrity of the product.
SS Dairy Fittings Unions:
Stainless steel dairy unions provide a convenient and removable connection between two pieces of dairy equipment or pipes, allowing for easy disassembly and maintenance.
Steel Dairy Reducers and Adapters:
Reducers and adapters are used to connect different-sized pipes or tubing in the dairy system while maintaining a sanitary and smooth transition. PS Steel SS Dairy Adapter Industrial Fittings Supplier are specialized fittings used for the transfer of liquids and gases in clean processes in the dairy industry.
If you want to use it in the construction of a plant, then you can contact us without any worry and make a deal. They are generally used to connect different types of equipment like tanks, pipes, valves and pumps. PS Steel offers high quality stainless steel dairy adapters for dairy farm production areas. These adapters are specifically designed for dairy applications and are made of durable stainless steel material. They have been precisely engineered to ensure a safe and reliable connection between various dairy components.
Industrial Dairy Fittings Valves:
Various types of stainless steel valves, such as ball valves, butterfly valves, and diaphragm valves, are used for controlling the flow of dairy products at different stages of processing.
Dairy Sight Glasses and Level Indicators:
These SS Metal Materials made of stainless steel allow visual monitoring of the product flow, levels, and conditions within the dairy processing equipment.
Dairy Hose Fittings and Connectors:
Ps Steel Offered Stainless steel fittings for hoses are used to connect hoses to the processing Metal Material of PS Steel, ensuring a secure and clean connection for the transfer of dairy products.
SS Dairy Fittings Manufacturer Tank Fittings:
Fittings for dairy tanks, including manways, vents, and sanitary fittings, are essential for the proper functioning and hygiene of storage and processing tanks.
SS Dairy Fittings Spray Balls:
Stainless steel spray balls are used for cleaning and sanitizing the interior of tanks, pipes, and equipment by spraying cleaning solutions.
Product Features
Weld Neck Flanges

5

1

Slip On Flanges

5

1

Socket weld Flanges

4

1
Reviews
We have all types of pipe products, making it easier for you to do pipe work. Manufacturer main famous products we have are Stainless Steel Pipe, Ss Slot Pipes, Inconel Monel Raw Material, MS Pipe, Jindal Pipe, Ps Pipe, Steel Pipes, Pipe Fittings, Stainless Steel Sheets, Ss Seamless Pipe, and Ss Pipe to name a few fittings.
How to Deal SS Pipe With Us?

Ps Steel is India's trusted company that deals in steel products, if you want to know how to deal with us, then I am going to tell you the solution to all such questions.

Step 1. You can select the product by Search Product or Catalogue. Zoom feature is also available for the quality of the product. You can select the type of pipe in range and grade class you want.

Step 2. You will have a button show of the price detail box, in that you have to send your queries, you will get all the information immediately.

Step 3. You have to write your number and type of product like you have to type pipe, or pipe fittings, flanges, valves, SS pipe and send it to us.

Step 4. Apart from this, you can call or call us immediately by clicking on the contact button given above.

Today SS Pipe Product Price?

If you want to know what is the price of today's pipe, then you will get the price details on this foot pdf or table, if you want to know more about the price, then you can directly deal with us face to face in India, Delhi. you can deal at our branch office, our address is SHOP NO. 58, 1ST FLOOR, RAGHU SHREE MARKET, AJMERI GATE, DELHI 110006