Name: SS Slot Pipes
Brand: Ps Steel
Material: Stainless Steel
Size: Varies depending on the application
Others: Monel, Nickel, Inconel, Mild Steel, Copper, Brass, Bronze, Titanium, Bismuth, Aluminium, High-Speed Steel, Zinc, and Lead.
Types: Hex nipple, close nipple, barrel nipple, long barrel nipple, etc.
Product Description
Ps Steel SS slot pipe fittings are a type of metal fitting used to construct handrails, balustrades, and other architectural features. They consist of a tube or pipe with slots cut into the side, and fittings that can be used to connect the tubes together.
Ps Steel SS is a popular material for slot pipe fittings because it is durable, resistant to corrosion and rust, and can withstand exposure to harsh weather conditions. The slots in the pipe allow for drainage, ventilation, and a decorative touch to the overall design.
Ps Steel is Manufacturer of Stainless steel slot pipe Industrial fittings refers to a type of pipe made from stainless steel that features a slotted or perforated design along its length. The slots or perforations are evenly spaced and can be either circular or rectangular in shape, depending on the manufacturer's specifications.
This type of pipe is commonly used in architectural, decorative, and construction applications due to its aesthetic appeal and corrosion-resistant properties. The slots allow for increased airflow and ventilation while still maintaining structural integrity, making it suitable for use in railing systems, sunscreens, and facades.
Ps Steel is a Manufacturer of Stainless steel slot pipe Industrial fittings come in a variety of sizes and wall thicknesses to meet the specific needs of different applications. They can be manufactured using different grades of stainless steel, such as 304, 316, or 316L, depending on the environment in which they will be used.
Ps Steel is a Manufacturer of Stainless steel slot pipe Industrial fittings are a versatile and durable choice for many different applications where a combination of strength and aesthetic appeal is required.
| | | | |
| --- | --- | --- | --- |
| Outer Diameter (OD) (mm) | Wall Thickness (mm) | Slot Width (mm) | Slot Depth (mm) |
| 25 | 1.0 | 1.0-3.0 | 10-15 |
| 38 | 1.0 | 1.0-3.0 | 10-15 |
| 51 | 1.2 | 1.0-3.0 | 10-15 |
| 63 | 1.5 | 1.0-3.0 | 10-15 |
| 76 | 2.0 | 1.0-3.0 | 10-15 |
| 89 | 2.0 | 1.0-3.0 | 10-15 |
| 102 | 2.0 | 1.0-3.0 | 10-15 |
Stainless Steel slot pipe fittings include:
End caps: These are used to cap off the ends of the Industrial Manufacturer slot pipe, providing a finished look and preventing debris from entering the pipe.
Connectors: These fittings are used to connect two pieces of slot pipe together. They can come in different angles such as 90 degrees, 180 degrees, and adjustable angles.
Flanges: These fittings attach the Industrial Pipe and Tube slot pipe to a surface such as a wall or a floor. They can be mounted using screws, bolts, or adhesive. Ps Steel Fanged In Industrial SS Slot Pipe Fittings.
Ps Steel SS slot pipe fittings come in various sizes and shapes to fit different pipe diameters and configurations. They are commonly used in industries such as construction, architecture, and interior design.
We are one of the most trusted stockists for offering the finest range of Stainless Steel Industrial Manufacturer Slot Pipes and Tube Fittings, Duplex Steel, Carbon Steel & Alloy Steel Pipes. Used in different industries for diverse applications, these pipes can be available in standard as well as customized dimensions as per the requirement of the clients.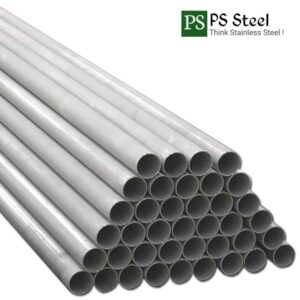 Seamless Pipe manufacturers in India Leading seamless pipe manufacturers, suppliers, dealers, and exporters in India are who we are. There are various sizes, shapes, and grades of our seamless pipes to choose from. We provide these pipes to over 20 states and the majority of the biggest Indian cities. Different grades of stainless steel pipes, super duplex steel pipes, duplex steel pipes, carbon steel pipes, alloy steel pipes, nickel alloy pipes, titanium steel pipes, Inconel steel pipes, and so on are available from Sachiya Steel International. Product Name: SS Seamless Tubes Material: Stainless Steel (Various grades such as 304, 316, 321, etc.) Brand: PS Steel
View Details of Products