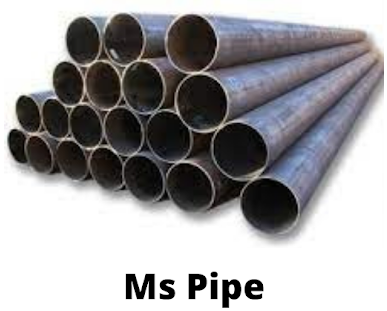 Name: MS Pipe
Brand: Ps Steel
Material: Stainless steel
Threaded ends: Male on one end, female on the other
Size: Varies depending on the application
Types: Hex nipple, close nipple, barrel nipple, long barrel nipple, etc.
Product Name: Mild Steel Pipe
Material: Mild Steel
Brand: PS Steel
Shape: Square
Dimensions: Varies (Customize size)
Thickness: Varies (Customize thickness)
Length: Varies (Customize length)
Surface Finish: Black, Galvanized, or Powder-coated (Customize finish)
Application: Construction, Fabrication, Structural support, Furniture, etc.
Features: Durable, Easy to weld and fabricate, Corrosion-resistant
Availability: Widely available in various sizes and thicknesses
Compliance: Conforms to industry standards and specifications
Jindal Stainless Steel Pipe
Name: SS Jindal Pipe 
Brand: Ps Steel
Material: Stainless Steel Pipe
Size: Varies depending on the application or Customize
Others: Monel, Nickel, Inconel, Mild Steel, Copper, Brass, Bronze, Titanium, Bismuth, Aluminium, High-Speed Steel, Zinc, and Lead.
Types: Hex nipple, close nipple, barrel nipple, long barrel nipple, etc.
 
SS Slot Pipes and Tube Fittings
Name: SS Slot Pipes
Brand: Ps Steel
Material: Stainless Steel
Size: Varies depending on the application
Others: Monel, Nickel, Inconel, Mild Steel, Copper, Brass, Bronze, Titanium, Bismuth, Aluminium, High-Speed Steel, Zinc, and Lead.
Types: Hex nipple, close nipple, barrel nipple, long barrel nipple, etc.
Product MS Pipe Manufacturers and suppliers from Delhi
Material: Mild steel is a low-carbon steel that offers good strength and durability. PS Steel MS Square Pipe is a popular choice for Pipe weld fittings due to its affordability and versatility.
Types of fittings: There are various types of weld fittings available for mild steel pipes and tubes, including:
Elbows: Used for changing the direction of the pipe or tube.
Tees: Provide a branch connection for pipelines.
Reducers: Used to connect pipes or tubes of different sizes.
Caps: Used to seal the ends of pipes or tubes.
Flanges: Provide a connection point for joining pipes or tubes to other equipment or structures.
Welding process: Mild Steel Pipe Industrial Manufacturer Fittings are typically joined to the pipes or tubes through welding. MS Pipe of Stainless Steel Related to Best Metal Material of PS Steel. PS Steel is a Supplier and manufacturer of welding processes including arc welding, MIG welding, and Tungsten Inert Gas welding. The appropriate welding process depends on factors such as the application, pipe size, and desired strength of the joint.
MS Pipe Weight Chart in Kg | Schedule Chart PDF
Introduction to PS Steel Manufacturer and Supplier
PS Steel Manufacturer Company, based in Delhi, is a leading name in the industry of manufacturing high-quality Mild Steel pipes. With a commitment to excellence and a focus on customer satisfaction, PS Steel has established itself as a trusted provider of MS pipes in the market.
What Are MS Pipes?
Mild Steel pipes are a type of steel pipes made from low carbon content, making them malleable, easy to form, and versatile in various applications. PS Steel Mild Steel Metal Supplier and Exportere are widely used in construction, infrastructure, and industrial projects due to their strength and durability.
Advantages of MS Pipes
Durability and strength
Cost-effectiveness
Easy availability
Versatile applications
Low maintenance
PS Steel: A Leading MS Pipe Manufacturer in Delhi
PS Steel takes pride in being a leading manufacturer and supplier of MS pipes in Delhi. Industrial Plant Manufacturer Metal Material Supplier by Ps Steel to quality and customer satisfaction has made them a preferred choice among customers.
High-Quality Manufacturing Process
PS Steel employs state-of-the-art manufacturing processes to ensure that their MS pipes meet the highest quality standards. From sourcing raw materials to the final product, every step is carefully monitored to maintain excellence.
Range of MS Pipes Offered by PS Steel
PS Steel offers a diverse range of MS pipes catering to various needs. Our Steel Items product range includes different sizes,Wieght, thicknesses, and specifications to meet the demands of different projects.
Top-Notch Quality Standards
Quality is of paramount importance at PS Steel. They adhere to stringent quality control measures, ensuring that every MS pipe leaving their facility meets the required industry standards.
Dedicated Customer Support
PS Steel prioritizes customer satisfaction and offers dedicated support to address inquiries, provide product information, and assist in the ordering process.
Pricing and Affordability
Despite the high quality of their products, PS Steel ensures competitive pricing, making their MS pipes affordable without compromising on quality.
Sustainable Practices
PS Steel is committed to sustainable and environmentally friendly practices throughout its manufacturing process, minimizing its environmental footprint.
How to Place an Order with PS Steel
Ordering MS pipes from PS Steel is a straightforward process. Customers can easily place orders and receive their products in a timely manner.
Customer Testimonials
Customers who have chosen PS Steel for their MS pipe needs have shared their positive experiences, highlighting the quality of the products and excellent customer service.
Why Choose PS Steel for Your MS Pipe Needs?
PS Steel stands out in the industry due to its unwavering commitment to quality, a wide range of products, competitive pricing, and exceptional customer support.