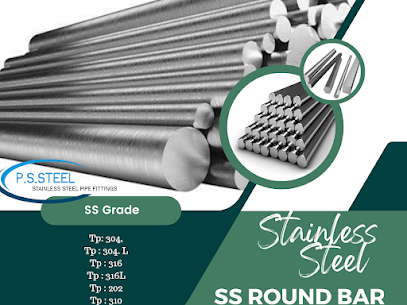 Name: SS Round Bar
Brand: Ps Steel 
Fabric: Stainless steel (But Elbow) (usually type 304 or 316)
Connection Type: Butt-weld
Degrees: 45°, 90°, 180°
Radius: Short radius (SR) or long radius (LR)

Wall Thickness:

 Sch 10, Sch 40, Sch 80, Sch 160
Nominal Pipe Size (NPS): 1/2″, 3/4″, 1″, 1-1/4″, 1-1/2″, 2″, 2-1/2″, 3″, 4″, 5″, 6″, 8″, 10″, 12″, 14″, 16″, 18″, 20″, 22″, 24″, 26″, 28″, 30″, 32″, 34″, 36″
Details of Product
Stainless steel round bar is a type of metal bar that has a circular cross-section and is made of stainless steel. It is commonly used in construction, automotive, aerospace, and other industries due to its strength, durability, and corrosion resistance.
The round bar is available in different sizes, ranging from small diameters of a few millimeters to larger diameters of several inches. The length of the bar is usually standard at 12 feet, but can also be customized based on specific requirements.
SS Round Bar Dealers Supplier
Stainless steel round bars are made from a variety of grades of stainless steel, such as 304, 316, and 440C. Each grade has unique properties that make it suitable for specific applications. For example, 304 stainless steel is commonly used for its excellent corrosion resistance and ease of fabrication, while 440C stainless steel is used for high-end applications that require exceptional hardness and wear resistance.
Steel Rod Round Bars In Dlehi
In addition to its material properties, stainless steel round bars can also be finished in different ways to meet specific requirements. Some common finishes include cold-drawn, centerless ground, turned, and polished.
Stainless steel round bars are used in a variety of applications, such as shafts, fasteners, valves, bearings, and fittings. PS Steel Metal Supplier are also commonly used in the manufacture of kitchen appliances, medical devices, and marine equipment due to their resistance to corrosion and high temperatures.