Product Name: Stainless Steel Elbow Pipe
Material: Stainless Steel
Type: Elbow Pipe
Size: Various sizes available
Finish: Polished
Usage: Used for changing the direction of fluid flow in plumbing systems
Features: Durable, corrosion-resistant, and suitable for high-temperature applications
Applications: Plumbing systems, industrial processes, HVAC systems, water treatment plants, etc.
Product Description:
PS Steel is a Manufacturer of SS Pipe Elbow Industrial Fittings are essential components used in piping systems to change the direction of fluid flow. These fittings are designed with a curved bend, allowing pipes to connect at different angles.
Brand: PS Steel Stainless Steel
PS Steel Manufacturer and Supplier SS offer excellent durability and corrosion resistance, ensuring long-lasting performance in various environments.
Type: Pipe Elbow Fittings
These fittings are designed explicitly as elbow-shaped connectors, enabling changes in the direction of fluid flow.
Sizes: Available in various sizes
PS Steel SS Pipe Elbow Industrial Fittings come in a range of sizes to accommodate different pipe diameters and system requirements.
Finish: Polished
The fittings are finished with a polished surface, providing a smooth and visually appealing appearance.
Features:
Durability: PS Steel SS construction ensures high strength and resistance to wear, pressure, and temperature fluctuations.
Corrosion Resistance: PS Steel SS is highly resistant to corrosion, making these fittings suitable for indoor and outdoor applications.
High-Temperature Capability: PS Steel is a Manufacturer of SS that can withstand elevated temperatures, making these fittings suitable for applications involving hot fluids or environments.
Leak Resistance: The fittings are designed to provide a secure and leak-free connection, ensuring efficient fluid flow.
Applications of Stainless Steel Pipe:
Plumbing Systems: Used in residential, commercial, and industrial plumbing systems for water supply, drainage, and HVAC applications.
Industrial Processes: Applied in various industries, such as chemical, petrochemical, oil and gas, food processing, pharmaceuticals, and other Industrial plants.
Water Treatment Plants: Utilized in water treatment facilities for conveying water and other fluids during filtration, purification, and distribution processes.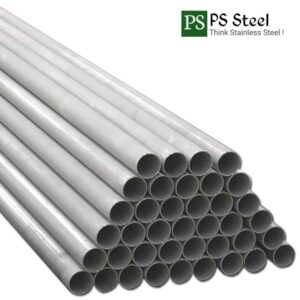 Seamless Pipe manufacturers in India Leading seamless pipe manufacturers, suppliers, dealers, and exporters in India are who we are. There are various sizes, shapes, and grades of our seamless pipes to choose from. We provide these pipes to over 20 states and the majority of the biggest Indian cities. Different grades of stainless steel pipes, super duplex steel pipes, duplex steel pipes, carbon steel pipes, alloy steel pipes, nickel alloy pipes, titanium steel pipes, Inconel steel pipes, and so on are available from Sachiya Steel International. Product Name: SS Seamless Tubes Material: Stainless Steel (Various grades such as 304, 316, 321, etc.) Brand: PS Steel
Read More »