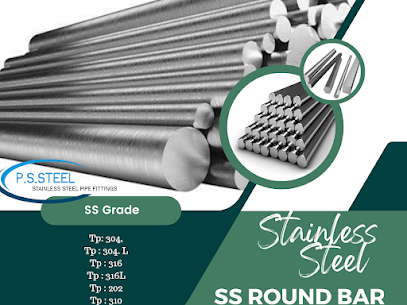 Name: SS Round Bar
Brand: Ps Steel 
Fabric: Stainless steel (But Elbow) (usually type 304 or 316)
Connection Type: Butt-weld
Degrees: 45°, 90°, 180°
Radius: Short radius (SR) or long radius (LR)

Wall Thickness:

 Sch 10, Sch 40, Sch 80, Sch 160
Nominal Pipe Size (NPS): 1/2″, 3/4″, 1″, 1-1/4″, 1-1/2″, 2″, 2-1/2″, 3″, 4″, 5″, 6″, 8″, 10″, 12″, 14″, 16″, 18″, 20″, 22″, 24″, 26″, 28″, 30″, 32″, 34″, 36″
Product: PS Steel – Stainless Steel Round Bar
A stainless steel round bar is a type of metal bar that has a circular cross-section and is made of stainless steel. It is used in Dairy Plant construction, automotive, aerospace, and other industries due to its strength, durability, and corrosion resistance.
The round bar is available in different sizes, ranging from small diameters of a few millimeters to larger diameters of several inches. The length of the bar is usually standard at 12 feet, but can also be customized based on specific requirements.
SS Round Bar Industrial Manufacturer
SS round bars are made from a variety of grades of stainless steel, such as 304, 316, and 440C. Each grade has unique properties that make it suitable for specific applications. For example, 304 stainless steel is commonly used for its excellent corrosion resistance and ease of fabrication, while 440C stainless steel is used for high-end applications that require exceptional hardness and wear resistance.
Stainless Steel Round Bar Material:
Our PS Steel Stainless Steel Round Bars are meticulously forged from high-grade stainless steel alloys, renowned for their exceptional strength, corrosion resistance, and durability. This ensures a reliable and long-lasting product for various applications.
SS Round Bars Industrial Applications:
PS Steel Stainless Steel Round Bars play a vital role across industries, including aerospace, automotive, construction, marine, and petrochemical sectors. Their outstanding mechanical properties and corrosion resistance make them indispensable for manufacturing machinery, components, and structures.
SS Round Bars Manufacturer:
Item Sourced from PS Steel, a trusted and experienced stainless steel round bar manufacturer, our products meet the highest industry standards. These bars are precisely engineered to meet diverse specifications and cater to the unique needs of our customers.
SS Round Bars Dealers:
Our Offered PS Steel dealers are crucial in efficiently distributing our Quality Stainless Steel Round Bars. PS Steel Stainless Steel Pipe and Tube Fittings ensure widespread accessibility, personalized service, and expert guidance, meeting specific requirements with utmost professionalism.
SS Round Bars Suppliers:
We partner with reliable suppliers to maintain a steady and consistent supply of PS Steel Stainless Steel Round Bars. This network ensures seamless operations and timely deliveries, satisfying market demands effectively.
SS Round Bars Shop:
Explore our dedicated PS Steel Stainless Steel Round Bar shop, the ultimate destination for top-grade stainless steel bars. We offer a comprehensive range of sizes and specifications, providing a seamless and satisfying shopping experience.
SS Round Bars Distributor:
As a reputable PS Steel Stainless Steel Round Bar distributor, our robust distribution network enables us to reach customers promptly. This ensures on-time deliveries and meeting the specific needs of our diverse customer base.
SS Round Bars Exporter:
We, at PS Steel, take pride in exporting our top-quality Stainless Steel Round Bars to international markets, meeting global demands, and adhering to the highest industry standards.
SS Round Bars Stockist:
Maintaining an extensive stock of PS Steel Stainless Steel Round Bars allows us to promptly fulfill orders of all sizes and specifications. As a reliable stockist, we are always ready to meet the immediate requirements of our valued customers.