Product Name: Stainless Steel ERW Pipe Sch-10
Material: Stainless Steel Grade 304
Brand: Ps Steel
Schedule: Sch-10
Manufacturing Method: Electric Resistance Welding (ERW)
Outer Diameter (OD): 1/2 inch (15.88 mm) – 12 inches (304.8 mm)
Wall Thickness: 1.65 mm – 3.2 mm
Length: 6 meters (20 feet)
End Finish: Plain End or Bevelled End
Surface Finish: Pickled and Annealed or Polished
Standards: ASTM A312, ASME SA312, ASTM A269, ASTM A213
Applications: Food processing, Petrochemicals, Pharmaceuticals, Water treatment plants, Chemical plants, Dairy industry, etc.
Product Description:
If you have a requirement for SS ERW Pipe Sch-10 then you can buy it easily but PS Steel is such a company that you will get Stainless Steel Products at the best fresh rate. The best facilities of SS Pipe Fittings will be given, not only this, you will get all types of steel items on it, which are useful in building the steel industry. There are many items of SS Pipe Fittings such as SS Flanges. SS Pipes | Ss Sheet | SS Instruments | SS Tube Fittings | Ss Butt Weld Fittings | Ss Screwed & Forged Fittings | Ss Plate, Coil, Rod, etc.
I also give you guidance with complete details about your items. PS Steel is a manufacturer of Stainless Steel ERW Pipe Industrial Fittings Sch-10 is a fantastic pipe designed for diverse industrial applications. It is manufactured the use of the Electric Resistance Welding (ERW) process, which guarantees specific dimensions and constant exceptional. The Sch-10 designation refers to the pipe's schedule or thickness, indicating it has a standard wall thickness.
Features of SS ERW Pipe Sch-10:
Material: Made from premium-grade PS Steel is a manufacturer of Stainless Steel, ensuring brilliant corrosion resistance and sturdiness.
ERW Process: Manufactured the use of the Electric Resistance Welding procedure, ensuring particular dimensions and first-rate welds.
Schedule 10 Thickness: Designed with a trendy wall thickness, providing structural integrity and appropriate for a wide range of applications.
Versatile Application: Suitable for diverse industries, such as plumbing, construction, oil and gasoline, chemical processing, and extra.
Size Range: Available in a number of sizes to meet special undertaking necessities.
Product Benefits:
Corrosion Resistance: PS Steel is a producer of Stainless Steel that offers high-quality resistance to corrosion, making the pipe appropriate for both indoor and outdoor programs, even in harsh environments.
Durability: Constructed by PS Steel manufacturer of Stainless Steel, the pipe exhibits extremely good strength and durability, ensuring an extended provider existence.
Easy Installation: The ERW pipe's particular dimensions and constant first-class make it smooth to put in, saving time and effort.
Compatibility: Compatible with a huge range of fittings, taking into consideration seamless integration into present piping systems.
Versatile: The SS ERW Pipe Sch-10 versatility makes it appropriate for various packages, along with fluid transport, structural aid, and extra.
We have got all types of metal products which are useful for any industry to make it. Some of them are such types of metal items, which you can deal with by contacting us from Ajmeri Gate or online, no charge will be taken for this.
We have all types of pipe products, making it easier for you to do pipe work. Cook main famous products we have are Stainless Steel Pipe, Ss Slot Pipes, Inconel Monel Raw Material, MS Pipe, Jindal Pipe, Ps Pipe, Steel Pipes, Pipe Fittings, Stainless Steel Sheets, Ss Seamless Pipe, and Ss Pipe to name a few fittings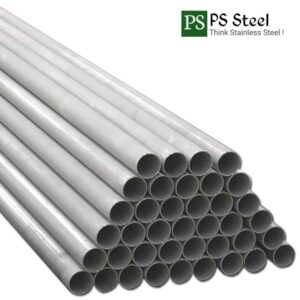 Seamless Pipe manufacturers in India Leading seamless pipe manufacturers, suppliers, dealers, and exporters in India are who we are. There are various sizes, shapes, and grades of our seamless pipes to choose from. We provide these pipes to over 20 states and the majority of the biggest Indian cities. Different grades of stainless steel pipes, super duplex steel pipes, duplex steel pipes, carbon steel pipes, alloy steel pipes, nickel alloy pipes, titanium steel pipes, Inconel steel pipes, and so on are available from Sachiya Steel International. Product Name: SS Seamless Tubes Material: Stainless Steel (Various grades such as 304, 316, 321, etc.) Brand: PS Steel
Read More »