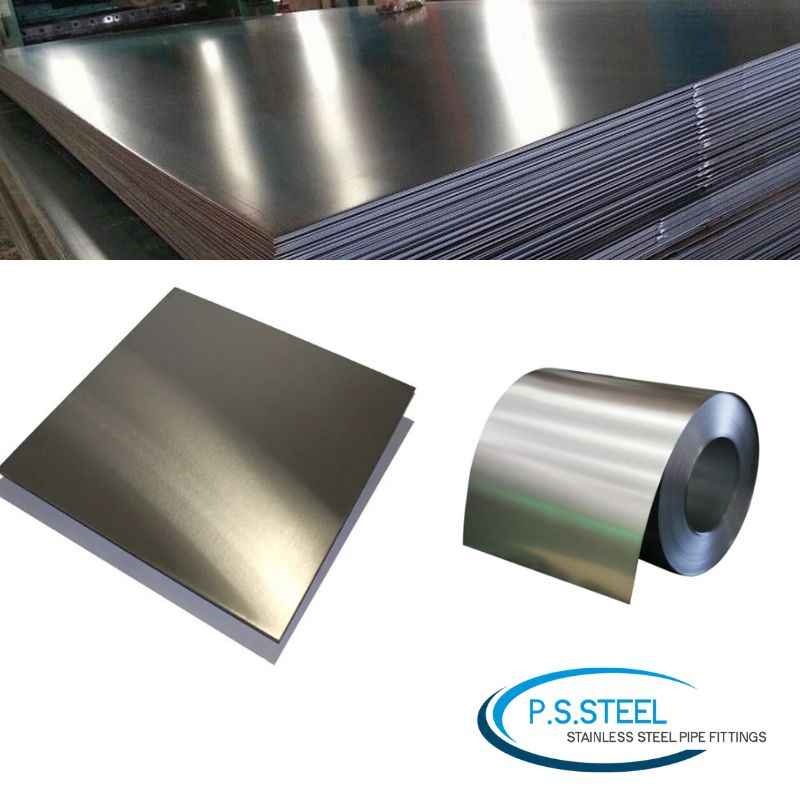 Name: 

Stainless Steel Sheet 

Brand: Ps Steel
Material: Stainless steel
Threaded ends: Male on one end, female on the other
Size: ranging from small pieces to large sheets.
Types: austenitic, ferritic, martensitic, duplex, and precipitation-hardening grades
Standards: Pipes and tubes are manufactured to various standards, such as ASTM, ASME, API, and DIN.
Stainless Steel Sheets Supplier/Exporter in South Africa and SS Plate Suppliers/Exporter in South Africa
Affordable Prices for Superior Quality Available. Visit our website to view our entire product selection. Fair Pricing for Industries in South Africa. Certified Dealer for Stainless Steel Sheet Exporter and Manufacturing. Customized Resolutions. Superior Quality.
We are one of the top suppliers and exporters of stainless steel sheets, SS plates, coils, and grades 304, 316, 321, 409/ 409L/ 409M, 410/ 410S, 430, 439, and 441 in South Africa. We are also an authorized supplier of Jindal Manufacturer's stainless steel sheet plate and coil in both India and South Africa. We carry an extensive selection of various sizes of stainless steel sheets, SS plates, and coils at Stainless Steels, serving the following South African cities: Johannesburg, Durban, Worcester, Cape Town, and Port Elizabeth. Polokwane, Nelspruit, Rustenburg, Bloemfontein, East London, and Mossel Bay among others.
Stainless Steel Sheets Supplier/Exporter in South Africa and SS Plate Suppliers/Exporter in South Africa
Ps Steel Stainless Steel Sheet Industrial Fittings is a versatile and widely used material in the manufacturing of industrial fittings. It is a corrosion-resistant material that can withstand high temperatures and pressures, making it ideal for use in a wide range of applications.
Ps Steet Stainless Steel Sheets Industrial Supplier/Exporter come in various forms, including pipe fittings, flanges, valves, and other components used in piping systems. These fittings are used in various industries, including oil and gas, chemical, petrochemical, power generation, and other sectors for Industrial Build By PS Steel.
Applications of Stainless Steel Flanges
• Chemical industry
• Food processing industry
• Marine industry
• Mechanical engineering
• Oil & gas industry
• Petrochemical industry
• Pipeline engineering
• Plant engineering
• Power industry
• Waste water management
Stainless Steel Plates and Sheets Exporting and Manufacturing
Manufacturers of Ps Steel Stainless Steel Sheets Industrial Suppliers/Exporters typically provide detailed information on their products, including specifications such as size, pressure ratings, material grade, and dimensional standards. Stainless Steel Sheet and Plates Fittings In South Africa Manufacturer of Sheets in Industrial Sectors. SS Metal Material for Industrial Manufacturer. P.S. Steel may also provide information on the manufacturing process and quality control procedures used to ensure the fittings meet industry standards and customer requirements.
Our Stainless Steel Sheets Supplier/Exporter Industrial are typically made using advanced manufacturing techniques such as forging, casting, and machining. These techniques allow for the production of high-quality fittings that are precise, durable, and reliable. Ps Steel is one of the leading Metal manufacturers, stockiest, SS exporters, and Metal suppliers of piping material catering to the energy sector, fasteners, Steel Stainless Sheet – SS Pipe Fittings Sheet dealers from India.
If you are looking for specific information on Ps Steel Stainless Steel Sheets Supplier/Exporter or other industrial components, it is best to contact a reputable manufacturer or supplier in your area. PS Steel Plates and Sheet will be able to provide you with detailed information on the products they offer and help you select the right fittings for your application.
Types of Stainless Steel Sheet
There are several types of stainless steel sheets available, including:
Austenitic Stainless Steel Sheet
Ferritic Stainless Steel Sheet
Martensitic Stainless Steel Sheet
Duplex Stainless Steel Sheet
Precipitation-Hardening Stainless Steel Sheet
MS Plate weight Chart in Kg
| Name | Plate Size (Mtr) | Size (foot) | Size (mm) | Thickness(mm) | Weight (kg) |
| --- | --- | --- | --- | --- | --- |
| MS Plate | 1.22×2.44 | 4'x8′ | 1220×2440 | 1 | 23.330 |
| MS Plate | 1.22×2.44 | 4'x8′ | 1220×2440 | 1.2 | 27.996 |
| MS Plate | 1.22×2.44 | 4'x8′ | 1220×2440 | 1.3 | 30.329 |
| MS Plate | 1.22×2.44 | 4'x8′ | 1220×2440 | 1.4 | 32.662 |
| MS Plate | 1.22×2.44 | 4'x8′ | 1220×2440 | 1.5 | 34.995 |
| MS Plate | 1.22×2.44 | 4'x8′ | 1220×2440 | 1.6 | 37.328 |
| MS Plate | 1.22×2.44 | 4'x8′ | 1220×2440 | 1.7 | 39.661 |
| MS Plate | 1.22×2.44 | 4'x8′ | 1220×2440 | 1.8 | 41.994 |
| MS Plate | 1.22×2.44 | 4'x8′ | 1220×2440 | 2 | 46.660 |
| MS Plate | 1.22×2.44 | 4'x8′ | 1220×2440 | 2.4 | 55.992 |
| MS Plate | 1.22×2.44 | 4'x8′ | 1220×2440 | 2.6 | 60.658 |
| MS Plate | 1.22×2.44 | 4'x8′ | 1220×2440 | 2.7 | 62.991 |
| MS Plate | 1.22×2.44 | 4'x8′ | 1220×2440 | 2.8 | 65.324 |
| MS Plate | 1.22×2.44 | 4'x8′ | 1220×2440 | 3 | 69.990 |
| MS Plate | 1.22×2.44 | 4'x8′ | 1220×2440 | 3.8 | 88.654 |
| MS Plate | 1.22×2.44 | 4'x8′ | 1220×2440 | 4.5 | 104.985 |
| MS Plate | 1.22×2.44 | 4'x8′ | 1220×2440 | 4.7 | 109.651 |
| MS Plate | 1.22×2.44 | 4'x8′ | 1220×2440 | 4.8 | 111.984 |
| MS Plate | 1.22×2.44 | 4'x8′ | 1220×2440 | 5.6 | 130.648 |
| MS Plate | 1.22×2.44 | 4'x8′ | 1220×2440 | 5.7 | 132.981 |
| MS Plate | 1.22×2.44 | 4'x8′ | 1220×2440 | 5.8 | 135.314 |
| MS Plate | 1.22×2.44 | 4'x8′ | 1220×2440 | 7.5 | 174.975 |
| MS Plate | 1.22×2.44 | 4'x8′ | 1220×2440 | 7.8 | 181.974 |
| MS Plate | 1.22×2.44 | 4'x8′ | 1220×2440 | 8 | 186.640 |
| MS Plate | 1.22×2.44 | 4'x8′ | 1220×2440 | 9.5 | 221.635 |
| MS Plate | 1.22×2.44 | 4'x8′ | 1220×2440 | 9.7 | 226.301 |
| MS Plate | 1.22×2.44 | 4'x8′ | 1220×2440 | 10 | 233.300 |
| MS Plate | 1.22×2.44 | 4'x8′ | 1220×2440 | 11.7 | 272.961 |
| MS Plate | 1.22×2.44 | 4'x8′ | 1220×2440 | 15.7 | 366.281 |
| MS Plate | 1.22×2.44 | 4'x8′ | 1220×2440 | 18 | 419.940 |
| MS Plate | 1.22×2.44 | 4'x8′ | 1220×2440 | 19.7 | 459.601 |
| MS Plate | 1.22×2.44 | 4'x8′ | 1220×2440 | 22 | 513.260 |
| MS Plate | 1.22×2.44 | 4'x8′ | 1220×2440 | 24 | 559.920 |
| MS Plate | 1.22×2.44 | 4'x8′ | 1220×2440 | 25 | 583.250 |
| MS Plate | 1.22×2.44 | 4'x8′ | 1220×2440 | 28 | 653.240 |
| MS Plate | 1.22×2.44 | 4'x8′ | 1220×2440 | 30 | 699.900 |
| MS Plate | 1.22×2.44 | 4'x8′ | 1220×2440 | 35 | 816.550 |
| MS Plate | 1.22×2.44 | 4'x8′ | 1220×2440 | 40 | 933.200 |
| MS Plate | 1.22×2.44 | 4'x8′ | 1220×2440 | 50 | 1166.500 |
| MS Plate | 1.22×2.44 | 4'x8′ | 1220×2440 | 60 | 1399.800 |
| MS Plate | 1.22×2.44 | 4'x8′ | 1220×2440 | 70 | 1633.100 |
| MS Plate | 1.5×6 | 5'x20′ | 1500×6000 | 2.7 | 190.852 |
| MS Plate | 1.5×6 | 5'x20′ | 1500×6001 | 3.7 | 261.538 |
| MS Plate | 1.5×6 | 5'x20′ | 1500×6002 | 4.7 | 332.224 |
| MS Plate | 1.5×6 | 5'x20′ | 1500×6003 | 5.7 | 402.910 |
| MS Plate | 1.5×6 | 5'x20′ | 1500×6004 | 7.7 | 544.282 |
| MS Plate | 1.5×6 | 5'x20′ | 1500×6005 | 9.7 | 685.654 |
| MS Plate | 1.5×6 | 5'x20′ | 1500×6006 | 11.7 | 827.026 |
| MS Plate | 1.5×6 | 5'x20′ | 1500×6007 | 15.7 | 1109.770 |
| MS Plate | 1.5×6 | 5'x20′ | 1500×6008 | 19.7 | 1392.514 |
| MS Plate | 1.5×6 | 5'x20′ | 1500×6009 | 24.7 | 1745.944 |
| MS Plate | 1.5×6 | 5'x20′ | 1500×6010 | 29.7 | 2099.374 |
| MS Plate | 1.5×6 | 5'x20′ | 1500×6011 | 35 | 2474.010 |
| MS Plate | 1.5×6 | 5'x20′ | 1500×6012 | 39.7 | 2806.234 |
| MS Plate | 1.5×6 | 5'x20′ | 1500×6013 | 49.7 | 3513.094 |
| MS Plate | 1.5×6 | 5'x20′ | 1500×6014 | 59.7 | 4219.954 |
| MS Plate | 1.5×6 | 5'x20′ | 1500×6015 | 79.7 | 5633.674 |
| MS Plate | 2×6 | 6'x20′ | 2000×600 | 4 | 376.992 |
| MS Plate | 2×6 | 6'x20′ | 2000×600 | 6 | 565.488 |
| MS Plate | 2×6 | 6'x20′ | 2000×600 | 8 | 753.984 |
| MS Plate | 2×6 | 6'x20′ | 2000×600 | 10 | 942.480 |
| MS Plate | 2×6 | 6'x20′ | 2000×600 | 12 | 1130.976 |
| MS Plate | 2×6 | 6'x20′ | 2000×600 | 16 | 1507.968 |
| MS Plate | 2×6 | 6'x20′ | 2000×600 | 20 | 1884.960 |
| MS Plate | 2×6 | 6'x20′ | 2000×600 | 25 | 2356.200 |
| MS Plate | 2×6 | 6'x20′ | 2000×600 | 30 | 2827.440 |
| MS Plate | 2×6 | 6'x20′ | 2000×600 | 40 | 3769.920 |
| MS Plate | 2×6 | 6'x20′ | 2000×600 | 50 | 4712.400 |
| MS Plate | 2×6 | 6'x20′ | 2000×600 | 60 | 5654.880 |
| MS Plate | 2×6 | 6'x20′ | 2000×600 | 70 | 6597.360 |